Activities and Achievements in 2019-20
June 10: Books Distribution (Outreach program)
As part of an outreach programme, department of Computer Science has distributed note books to 100 deserving students of Sacred Heart LP School on 10.06.2019. The programme was sponsored by the department alumni. Headmistress, Ms. Pauly, Department Head Ms. Regitha Baiju and Fr. Nijo Antony felicitated the function. Alumni representatives Mr. Peter Daglish, department faculty members and students were present on that occasion.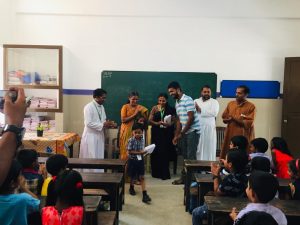 July 20: Industrial Visit
As a part of the academic progression, department took initiative to conduct an industrial visit in INS Garuda, Naval Base, Kochi on 20-07-2019. For this, the faculty members Fr. Nijo Antony, Ms. Achamma and Ms. Tressa Shybe were accompanied the students.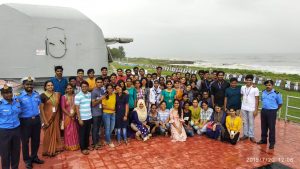 September 02: Association Inauguration
Department association CASA-2019 was inaugurated Mr. Mathew James, solution architect in UST Global on 02-09-2019. He delivered an interactive session on 'Cloud Technology. The session was very interesting and informative. The Principal delivered the presidential address. He appreciated the department for its vibrant activities and endeavors in the previous years.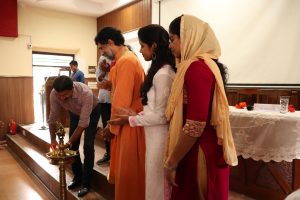 September 02: Honoring Students
In connection with the inauguration of CASA, the Dept. has honored the students for their excellent academic performance on 02-09-2019. 'Alumni Endowment for Best Overall Performer 2019', 'Alumni Endowment for Best Academic Performer 2019 of BSc CA' and 'Alumni Endowment for Best Academic Performer 2019 of BCA' were given to Ms. Sandra Jimmy, Ms. Samra C H and Mr. Ebin Agustine respectively. All students with 'A' grade were also honored.
December 3 & 4: Two Days Soft Skill Training
Two days soft skill training for 2nd year students of BSc CA and BCA students were handled by Mr. Praseedh Prasad, Phoenix Career Mentors, Kochi. 59 students were attended the two days sessions. It was really interactive and informative.
December 13 & 14: Two Days Hands-on Workshop on 'Practical Machine Learning Using Python.
Two days hands-on workshop was conducted by the department. 53 participants were attended the sessions. Mr.Shailesh had lead all sessions. Mr. Santhosh, Dr. Regitha and Ms. Soumya were handled few more sessions. Online and verbal feedback were taken from the participants.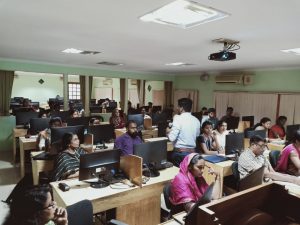 Two Day Workshop on Ethical Hacking:
Objective of the workshop was to impress upon the students the need of developing a theoretically and practically sound curriculum with strong "Ethical Hacking and security "concepts. In this workshop students acknowledged a complete knowledge of basic networking and ethical hacking. Hacking is not about the illegal things it's all about how to secure your system.
Google Hacking

Computer Ethical Hacking

Email Process & Phases of hacking

Live Facebook & Gmail Hacking

Windows Hacking, Mobile Hacking etc.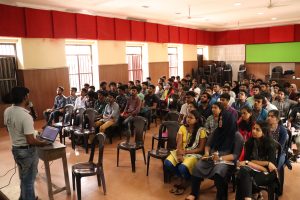 Paper Presentation
Second year BSc CA students Ms. Arya Chandran and Ms. Jisma has done a paper presentation in a national conference at NIMIT, Pongam on 20th Feb., 2020. The conference was chaired by Dr. E Balaguruswamy, an Indian educator, engineer and author.
Extension Programme
As part of the extension programme, department students have initiated to give a computer literacy to the selected students of Sacred Heart High School, Thevara on 22nd Feb. 2020. The duration of the hands-on training on MS Office and its components was from 10am to 4pm.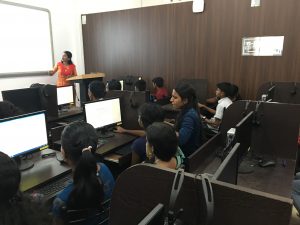 Certificate Distribution of Add-on Course
After completion of the Add-on course, 'Programming in Python' conducted by Livewire Institution, Ayyappankavu, the certificates were issued for thirteen first year students.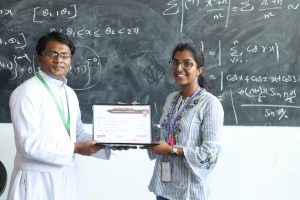 Placements
12 students were placed in IQVIA, 2 students in Deloitte, 1 student in Infosys, 5 students in Accenture.
Faculty Achievements
Ms. Regitha M R has secured PhD from Bharathiar University, Coimbatore

Mr. Shailesh has secured NET and JRF
Mr. Santhosh Kumar has achieved NET

Mr. Shailesh has received Best Researcher Award of S H College, Thevara